Staying Active on Your White Mountains Getaway

For many people, going on vacation in the White Mountains is a time to sit back, relax and detach from all the daily stressors that life can throw at you. As we all know, one of the best parts about going on vacation is being able to indulge in decadently delicious food and drink! While relaxing, sleeping in, and treating yourself to sweets and treats is a necessary part of vacation, maintaining a happy balance is another key to making the most out of your break.
With its convenient location in the White Mountains, just a short drive from Plymouth, Sandwich, Waterville Valley, and Woodstock, Owl's Nest makes it easy for you to balance the indulgence and activity needed to truly enjoy a well-earned vacation! Plus, you are guaranteed to feel better throughout your vacation if you are getting a sweat in and releasing some endorphins.
When visiting the White Mountains, you have the opportunity to make your vacation into the ultimate health and wellness getaway.
Check out some ways that you can stay active on your next getaway at Owl's Nest.

Sign up for a tennis or pickleball clinic.
Tennis Clinics | Tuesday, Thursday, & Sunday in May (starting May 16th, weather pending); Daily from June – October
Pickleball Clinics | Monday & Saturday from May – June (starts May 15th); Monday, Wednesday, and Saturday from July – October (starts July 3rd)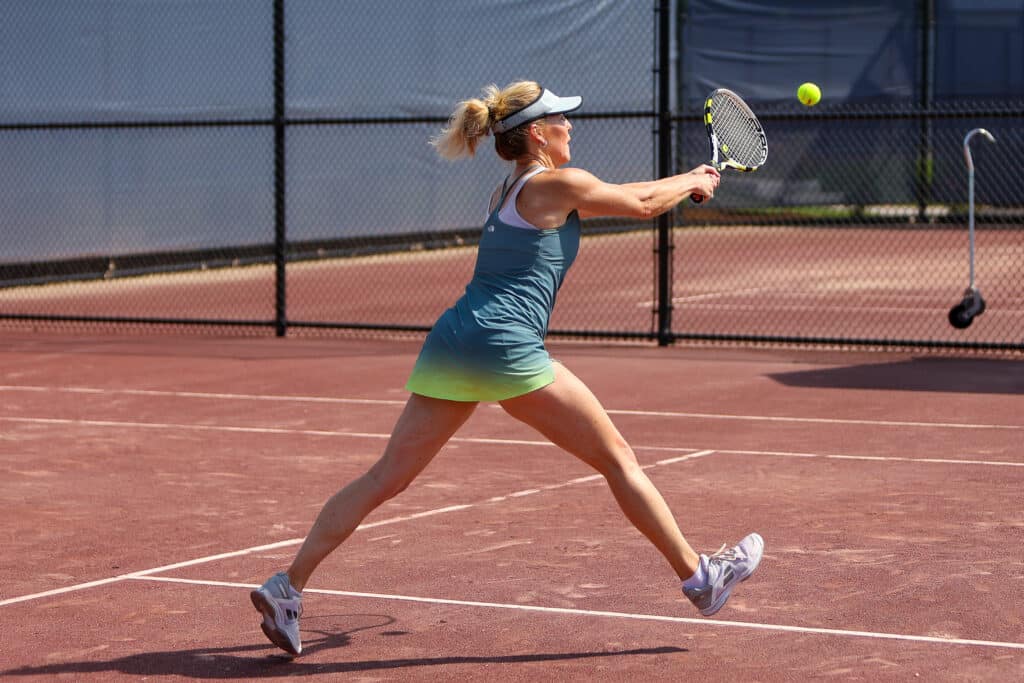 Whether you are familiar with tennis or pickleball, or it is your first time playing either of the sports, you can get your racquet on at Owl's Nest through a variety of clinics that are offered between the months of May and October.
Signing up for a tennis or pickleball clinic at Owl's Nest is easy through the PlayByPoint platform, where you can book all clinic, camp, and court times.
To find the Owl's Nest Racquet Complex after creating an account on PlayByPoint, click on "Facilities," add "Owl's Nest Resort" to your list of facilities. From there, you will be able to check out available times for clinics, camps, and leagues!
The PlayByPoint platform can also be downloaded on the Android or Apple app store.
Book tennis or pickleball court time to play at your own pace.
Play at the Racquet Complex Court.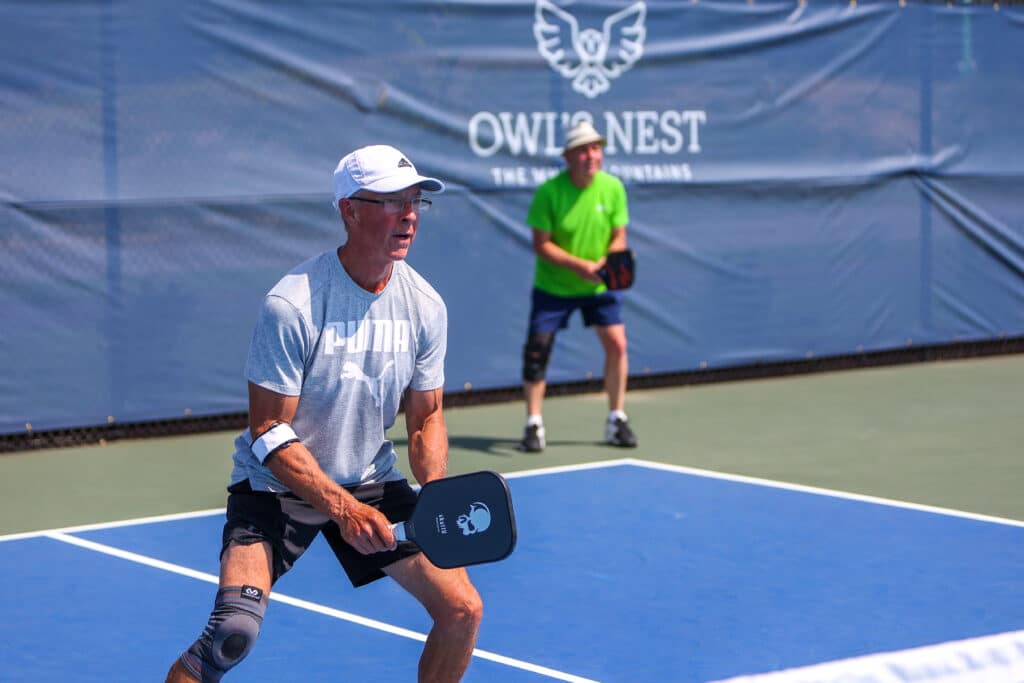 If you love tennis and pickleball but are not looking to join a clinic, you can also book some court time to play at your own leisure and pace.
Owl's Nest offers 8 European Red Clay tennis courts and 13 brand new pickleball courts, where you can book court time for 30- or 60-minute sessions.
Courts are available between the hours of 8am – 7pm and can be booked through PlayByPoint!
Enjoy lakeside recreation at the Boat House.
The Boat House at Owl's Nest offers an awesome opportunity to enjoy a day out on the water!
Coming this summer, the BoatHouse will feature a year-round outdoor heated pool and 30-person jacuzzi for the swimmers looking to make some laps!
In addition, the BoatHouse offers immediate lakeside access where you may rent a kayak, peddle boat, as well as stand-up paddle board to go enjoy on Lake Harold with breathtaking views of the White Mountains.
After working up an appetite, you can grab a bite to eat and drink from the BoatHouse's upcoming seafood restaurant, Hook.
Break a sweat in the Technogym Fitness Room.
If you are someone who enjoys burning your calories in a gym, Owl's Nest has you covered. Owl's Nest has recently updated their fitness center with all brand-new Technogym equipment as well as Peloton bikes!
Technogym offers premium equipment perfect for users of all ages and fitness levels. Also, if you have never taken a ride on the Peloton before, it's time to hop on the bandwagon!
Peloton bikes offer a great workout that is not only fun to do and an awesome way to get cardio in, but also helps to build strength and can improve your heart health.
NEW THIS SUMMER…
Relax with outdoor yoga at the Lake House – Starting June 5th, 2023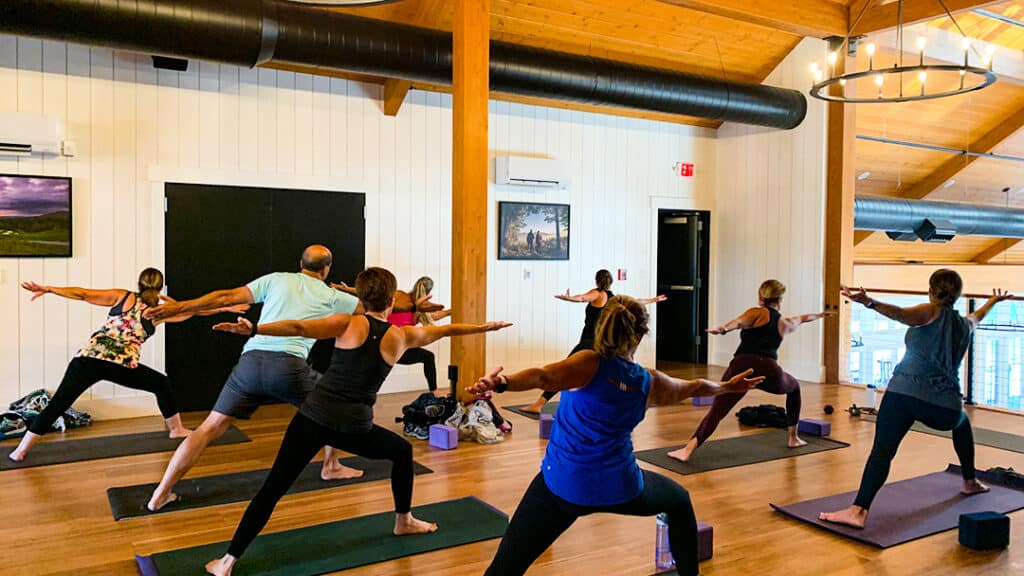 There are a lot of exciting things on the horizon at Owl's Nest this upcoming summer.
First off, Owl's Nest's yoga series will be continued with outdoor yoga right at the LakeHouse! Now, you can get a great yoga session in with gorgeous views of the White Mountains as you practice yoga on the deck overlooking Lake Harold.
These outdoor yoga sessions will be held on Monday evenings and Tuesday mornings from June through August. To see the full schedule and to sign up, click here.
Go on horseback rides.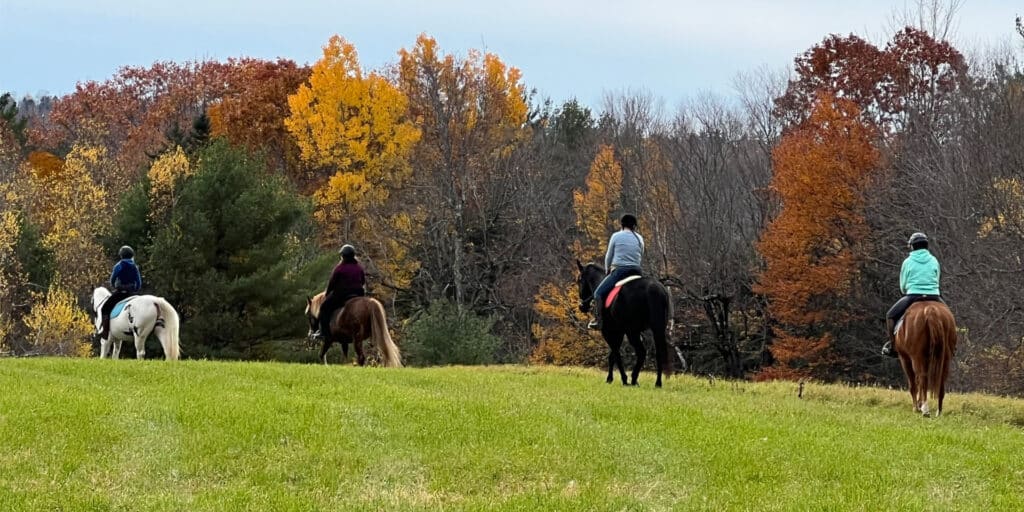 Looking for a fun, new adventure to take part in this summer? Owl's Nest is now offering horseback rides. Now, you can enjoy the views of the White Mountains on horseback with a 1-hour trail ride at Abenaki Farm.
Abenaki Farm is just 5 minutes from Owl's Nest and offers a unique experience in a picturesque setting for anyone, regardless of your age and experience. All trail rides are led by an experienced tour guide, and there is a maximum of 4 riders per group.
Check out local trails and recreation.
Of course, you cannot visit the White Mountains without going for some hikes to truly take in the views and stunning environment. Whether you're coming from Plymouth, Sandwich, Waterville Valley, or Woodstock, the local trails around Owl's Nest offer a great opportunity to explore the stunning environment of the White Mountains. Owl's Nest's area is known for its incredible network of trails and rivers where you can run, walk, hike, and swim. Some of our favorites to visit that are right nearby include the Smarts Brook Trail, Artist's Bluff & Bald Mountain Trail, as well as The Eddy Day Use Area.
Smarts Brook trail is easy to get to, off NH RTE 49 towards Waterville Valley, and will give you some easily accessible and beautiful views of waterfalls in the area!
Artist's Bluff & Bald Mountain Trail offers breathtaking views of Franconia Notch, the Franconia Ridgeline, and Cannon Mountain. Plus, this trail is only 1.5 miles round trip.
And the Eddy Day Use Area has a fun, local swimming hole that is just 5 minutes down the road from Owl's Nest on NH RTE 49 towards Waterville.
Take advantage of the gorgeous summer days in the White Mountains and explore the wonderful outdoor recreation available near the resort!