Looking for a fun way to celebrate summer? Look no further than Owl's Nest's annual Summer Bash taking place on Sunday, August 13th, which brings activities for everyone of all ages to enjoy.
If you have not visited Owl's Nest for the Summer Bash before, you will be in for a treat! The Summer Bash is full of everything from poolside relaxation and lake recreation to lawn activities and games, a classic New England style Surf & Turf Lobster Bake, and an outdoor concert from the Red Daisy Revival Band, with fireworks to cap off the evening.
The Summer Bash is totally open and free for the public to enjoy, with the exception of the Lobster Bake in the LakeHouse. To get in on the mouth-watering Lobster Bake, you can buy your tickets here!
Continue reading to check out some more information about the activities being held at this year's Summer Bash!
Poolside Relaxation.
Make the most of the beautifully warm and sunny weather with some poolside relaxation. Lounging by the pool with a refreshing beverage in your hand is the definition of summer. Take some time to get some R&R in by The BoatHouse's swimming pool and jacuzzi, which is perfect for anyone of any age.

Lake and Lawn Activities and Games.
If you are into lake and lawn activities, you are in luck! There are tons of different activities available during the Summer Bash on the lake and lawn, including taking out paddle boards and peddle boats on Lake Harold, or enjoying badminton, cornhole, and other fun games out on the lawn. Guests are able to bring their own non-motorized watercraft to enjoy out on the lake, as long as personal flotation devices are worn while out on the water.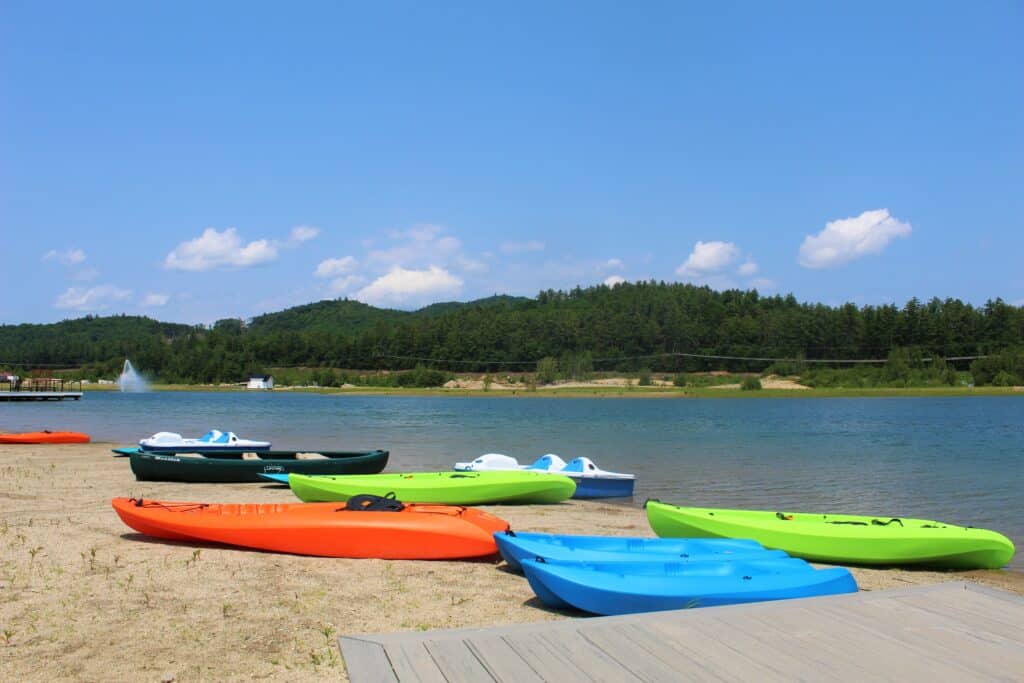 New England Style Surf & Turf Lobster Bake.
Capture the flavors of summer in New England with a Surf & Turf lobster bake taking place right in the LakeHouse! From 4pm-6pm, enjoy a delicious buffet with a menu of freshly steamed lobster, carved prime rib, house-made clam chowder, mac & cheese, apple pie, and more! In addition, bar service will be available both inside and outside on the deck of The LakeHouse. The Surf & Turf Lobster Bake will be $90/adult and $45/children 13 and under. Make sure to buy a ticket ahead of time, as spaces are limited. Seating will be set up family-style with indoor and outdoor options available.
The Red Daisy Revival Band Outdoor Concert.
Another staple of summer? Country & classic rock music. The Red Daisy Revival Band made up of New Hampshire singer and songwriter, Morgan Clark, and Nashville-made guitarist, Daniel Kassel, will be bringing their authentic Nashville country and classic rock tunes to Owl's Nest's brand-new outdoor stage located at The BoatHouse. The seating for the concert is lawn style, offering a fun opportunity for an outdoor picnic with your family and friends while enjoying some great music and entertainment! Plus, you can enjoy the music from the comfort of the pool or beach areas. Looking for concert snacks and refreshments? Tartaglia's Authentic Italian Pizza Truck, Del's Lemonade Stand, and the BoatHouse bar will be available throughout the concert to keep your hunger and thirst at bay.
Fireworks.
Cap off a great summer day with some fireworks, which will be taking place at 9:45pm and will be a beautiful way to end this year's Summer Bash!
If you are interested in making a full weekend out of the Summer Bash, check out the Lakeside Village accommodations, which are not only luxurious, but offer gorgeous views of Lake Harold as well as surrounding mountains – right from your balcony! Owl's Nest also offers a variety of different rental cottages and homes.
To book accommodations, check out options here and easily book online or call Owl's Nest directly at (603) – 726-3076 ext. 299.