Introducing Panorama Six82's New Spring and Summer Menu!
As we move fully into the warmer weather this Spring and Summer, Owl's Nest's Panorama Six82 has created a new spring and summer menu that is one of their most creative yet, taking inspiration from each of the culinary team members, in addition to Chef Morgana. Since her start at Panorama Six82 last fall, Chef Morgana has brought her culinary flare and creativity to the kitchen, wowing guests (and their taste buds) each and every day!
The spring and summer menu has combined Asian Fusion, Mediterranean, and American cuisines to bring together a well-balanced menu that has options for everyone, no matter what you are in the mood for.
The menu includes flavors that range across the spectrum, from sweet and tangy to creamy and savory. Chef Morgana and her team of culinary experts have hit all the flavors of spring and summer and have incorporated a number of deliciously fresh seafood dishes that will make it feel like the ocean is just feet away.
Check out some of our favorite dishes from the spring and summer menus, which includes a full menu of appetizers, lunch and dinner entrees, a kid's menu, and of course, some sweet treats for dessert!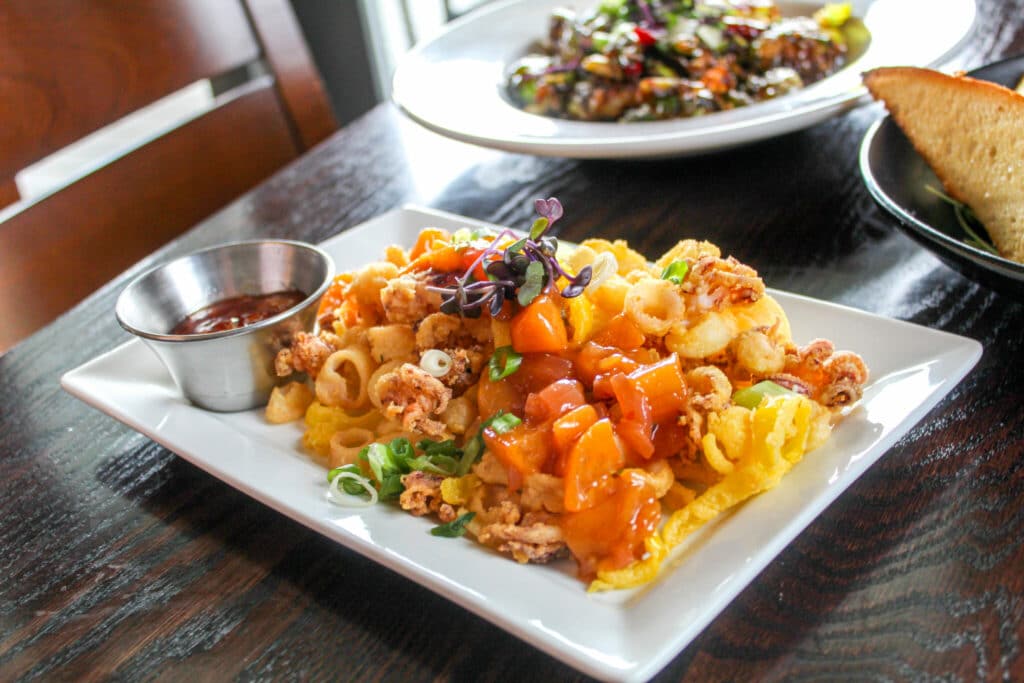 To start, try the Korean BBQ Yakitori Skewers, served with chicken thighs that are doused in sweet and tangy Korean BQ sauce and grilled for an extra kick of flavor.
If you're in the mood for a lighter appetizer, try the Chilled Burrata, served with creamy burrata cheese and balsamic reduction atop a bed of arugula and refreshing strawberry salsa – perfect for hot summer days!
For your main course at lunch, try Jorge's Grilled Salad or the Buttermilk Fried Chicken Sandwich. Jorge's Grilled Salad features a wonderful medley of greens, grilled summer squash, roasted pepper, sliced almonds, feta cheese, and more. The Buttermilk Fried Chicken Sandwich is the perfect savory menu option, served with a rich, house-made cheddar biscuit, sweet honey glaze, and juicy fried chicken, topped with spicy slaw and pickles.
For dinner entrees, we recommend the Seared Scallops or Stuffed Statler Chicken Breast. If you are a seafood lover, it's impossible to go wrong with the Seared Scallops served over a bed of roasted cherry tomatoes and bacon-sweet corn risotto – creating the perfect blend of summer flavors. The Stuffed Statler Chicken Breast offers a subtle sweetness with the sundried tomato tapenade over a tender and juicy Statler chicken breast, served with rich artichoke cream sauce.
And for dessert, you are guaranteed to be blown away by the Peach Turnover, a delicately rich puff pastry drizzled with honey and served hot right out of the oven. For something lighter and more citrusy, try Suzie's Sunshine, served with Lemoncello tiramisu. In the mood for something cold and refreshing? Try the Strawberry Sorbet, which is the perfect refreshing ending to a delightful meal.
To pair with your dessert, be sure to order one of Panorama Six82's House Espresso Martinis, mixed with Cold brew concentrate, Bailey's, Stoli Vanil, Kahlua, and Fernet Branca.
PanoramaSix82 is open Monday – Thursday from 11-8pm EST, Friday-Saturday from 11-9pm EST, and Sunday from 10-8pm EST, with brunch ending at 1pm EST.
If you are interested in making a reservation at PanoramaSix82 to try the delicious spring and summer menu for yourself, click here.
You can also order any spring and summer menu items for takeout, which can be done online or by calling (603) 726-3076 ext. 2.