Experience breathtaking views as you hike through New Hampshire's iconic mountain ranges. Home to the Old Man of the Mountain, you'll find trails of varying skill levels and elevations that'll satisfy your nature needs. All within one hour of Owl's Nest Resort, here are the 7 best places to hike near the Lakes Region.
2. Stinson Mountain – Rumney
Hike four miles round trip through a winding trail that opens to a clearing with spectacular views of the Baker River Valley and the Franconia and Sandwich Mountain Ranges. With a hike time of 2.5 hours, Stinson Mountain is one of New England's great options for beginner hikers. You won't encounter rock ledges or steep inclines, so the whole family can enjoy this excursion. This mountain only has one trail up to the summit and begins off Doetown Road.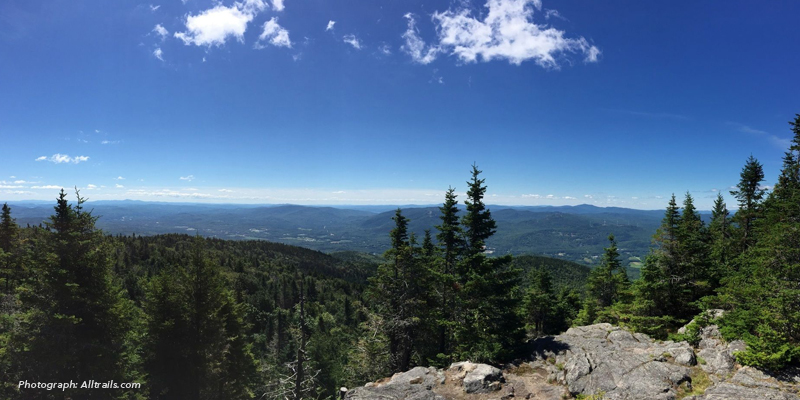 2. Rattlesnake Mountain – Rumney
Looking for spectacular views without an all-day hike? This is the perfect mountain for you! Rattlesnake Mountain is a 1.6-mile trip and takes about 1.5 hours to complete. Beware though, this mountain can be challenging. Due to its quick, but steep 1594-foot incline, you'll want to feel confident in your walking abilities. Not only will you enjoy the views of Baker River Valley and surrounding fields and mountains, you can also bring your dog to enjoy it with you.
3. Mount Cardigan – Canaan
Get ready to sweat! Mount Cardigan is one of New Hampshire's most popular hiking trails and sits at a 3,155-foot elevation. Known for its 360-degree views and fire tower at the top, you will definitely enjoy this hike with trails that range from 2.5 to 4 hours. If you're a beginner or want a shorter hike, we suggest taking the West Ridge Trail that goes directly to the summit in 1.5 miles.

4. Red Hill – Center Harbor
We promise this hike is more than just a hill! Red Hill is a gradual, 1.7-mile hike that features rewarding summit views of Lake Winnipesaukee. The mountain is elevated at 2029 feet and is a good option if you're seeking a quieter, less crowded experience. If you're up for it, you can even climb the fire tower at the top that provides an even better vantage point of the beautiful White Mountains.
5. Gunstock Mountain Mt. Rowe Trail – Gilford
Towering over Lake Winnipesaukee, Gunstock Mountain offers multiple trails that you can try depending on your preference. One of our favorite trails is the Rowe Trail, which is 1.8 miles long and can take just over 1 hour to complete. At a 0202-foot elevation, you'll witness views of Laconia, the lakes, and Ragged Mountain. We recommend bringing a lunch with you to enjoy the scenic view on the picnic tables at the top.

6. Belknap Mountain – Gilford
We encourage everyone to climb Belknap Mountain. This easy and invigorating climb reaches a 740-foot elevation and offers magnificent views of Lake Winnipesaukee. On a clear day, you may even be able to spot the famous snowcapped Mount Washington. While this hike does rise steadily, it's a very short distance to the summit. There are four trails that climb Belknap Mountain that vary by mileage and views, so choose the one that excites you!
7. Mount Major – Alton Bay
One of our favorite hikes and apparently everyone else's too, Mount Major is worth the challenge. At a 1,148-foot elevation, this 2.5-hour round trip opens to a large summit, a nice breeze, and an incredible view of Lake Winnipesaukee. You'll be able to see for miles! Even on a cloudy day, this is a very popular spot. Luckily, there is room for everyone. Just be warned, the trail is steep, and you'll need to scramble over a few ledges, so wear your hiking shoes.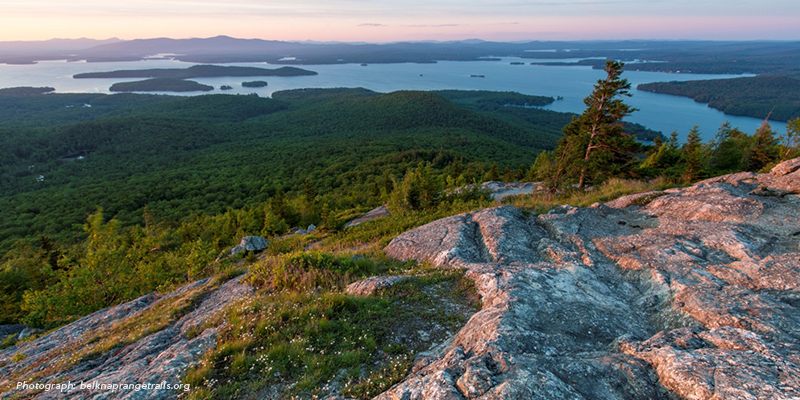 All that hiking might leave you a little tired and hungry. Just a short distance from the mountain trails, Owl's Nest Resort would be delighted to cater you at our Panorama Six82 restaurant where you can relax and enjoy refreshments. Click here to make a reservation or view our dinner menu. Or, stay and relax in one of our fully furnished homes. Call (602) 726-3026 to book your stay. We look forward to hearing about which mountain you climbed!